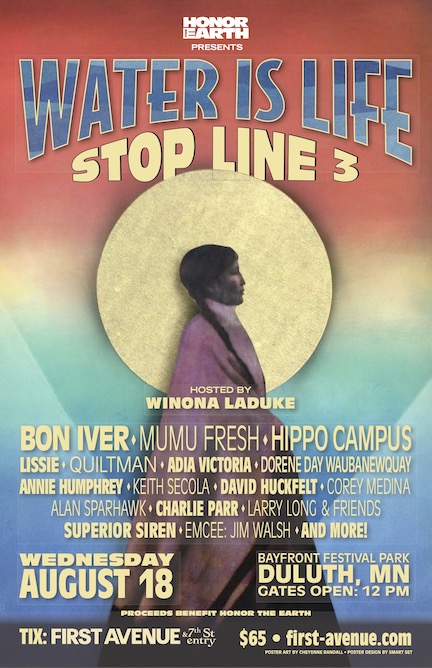 Wednesday,
August 18th
| 12pm – 10pm
Bayfront Festival Park – Duluth, MN
Larry Long & Friends invite you to the first ever "Water Is Life: Stop Line 3" music, art and cultural festival on the shores of the mighty Gichi-Gami (Lake Superior). Featuring an unprecedented coalition of musicians, artists, poets and Indigenous leaders, this one-day festival is a celebration of water as the fundamental life-giving resource of Mother Earth and a full-throttle resistance in music and song against the Line 3 tar sands oil pipeline currently snaking its way through the waterways and Anishinaabe lands of northern Minnesota. *
Water Is Life: Stop Line 3" music, art and cultural festival is produced & presented by Honor the Earth and its production and promotional partners, First Avenue and The Current. 
Line-up of featured artists who've donated their include: Bon Iver, Mumu Fresh, Hippo Campus, Lissie, Quiltman, Larry Long, David Huckfelt, Keith Secola, Annie Humphrey, Charlie Parr, Corey Medina. Alan Sparhawk, Superior Siren, Adia Victoria, and more.
A sacred water ceremony will be led by Dorene Day Waubanewquay, a 3rd Degree Midewiwin, and Lead Woman singer for Center Fire in the Three Fires (Heartway) Lodge.
Local, organic food vendors, regionally-sourced food and beverages, and a variety of organizations centered around the mission of sustainability, Indigenous rights, and clean water will all be onsite.
All proceeds will benefit the Indigenous women-led Honor the Earth non-profit in its fight against Enbridge's Line 3 construction in Native treaty Lands during a time of climate crisis and severe drought up north.