Community of Goodness Radio Show with troubadour Larry Long and storyteller Tom Thibodeau can be heard every Monday morning from 8:30 AM – 9:00 AM (CT).  Streamed worldwide on DRIFTLESS COMMUNITY RADIO WDRT-FM 91.9.
Community of Goodness Podcast can be heard at any hour by going to WDRT COMMUNITY RADIO PODCAST ARCHIVES.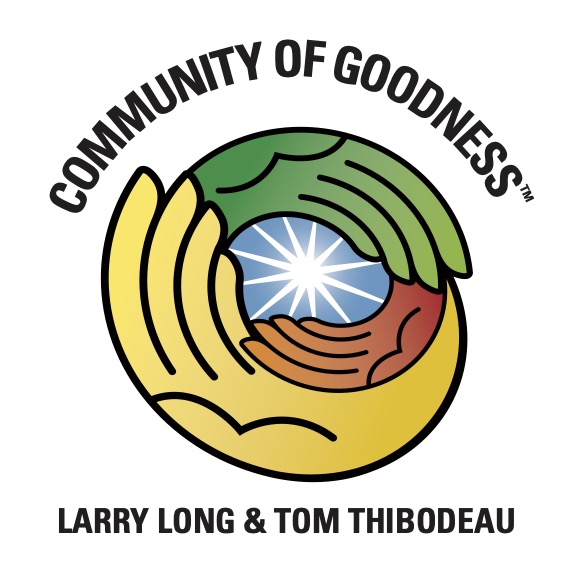 As Pete Seeger wrote, "If there's a world here in a hundred years, it's going to be saved by tens of millions of little things."
Community of Goodness Radio Show & Podcast is one of those small things that makes a world of difference in the lives of those who listen.
About Larry Long:  Larry is an American singer-songwriter who has made his life work the celebration of everyday heroes. He has written and performed hundreds of ballads celebrating community and history makers. Long is the creator of Elders' Wisdom, Children's song which has honored over one-thousand elders in story and song with youth across the nation.  Author and historian Studs Terkel called Larry "a true American Troubadour."
Long is a recipient of the Bush Artists Fellowship, the Pope John XXIII Award, Leadership In Neighborhood Fellowship (St. Paul Companies), Sustainability Award, and In The Spirit of Crazy Horse Award for his work in forgotten communities.
With recordings on Smithsonian Folkways, Cereus, & Rock the Cause Records, Long continues to perform throughout the United States and world. Larry is also a proud husband, father, and grandfather.
About Tom Thibodeau:  Tom is a Distinguished Professor of Servant Leadership at Viterbo University in LaCrosse, Wisconsin where he has been teaching for 37 years. Thibodeau is the founder of the Master of Arts degree in Servant Leadership at Viterbo, the only master's degree in servant leadership in the country.  Over twenty years ago he helped found the Place of Grace hospitality house in LaCrosse which serves meals and human dignity.  Besides speaking nationally to audiences on the developing servant leadership movement, Tom Thibodeau is also a proud husband, father, grandfather,  and part owner of a country tavern, Leo & Leona's.
Community of Goodness Radio Show & Podcast is recorded at Sound Strations Audio in La Crosse, Wisconsin by composer, producer, and engineer Brett Huus.