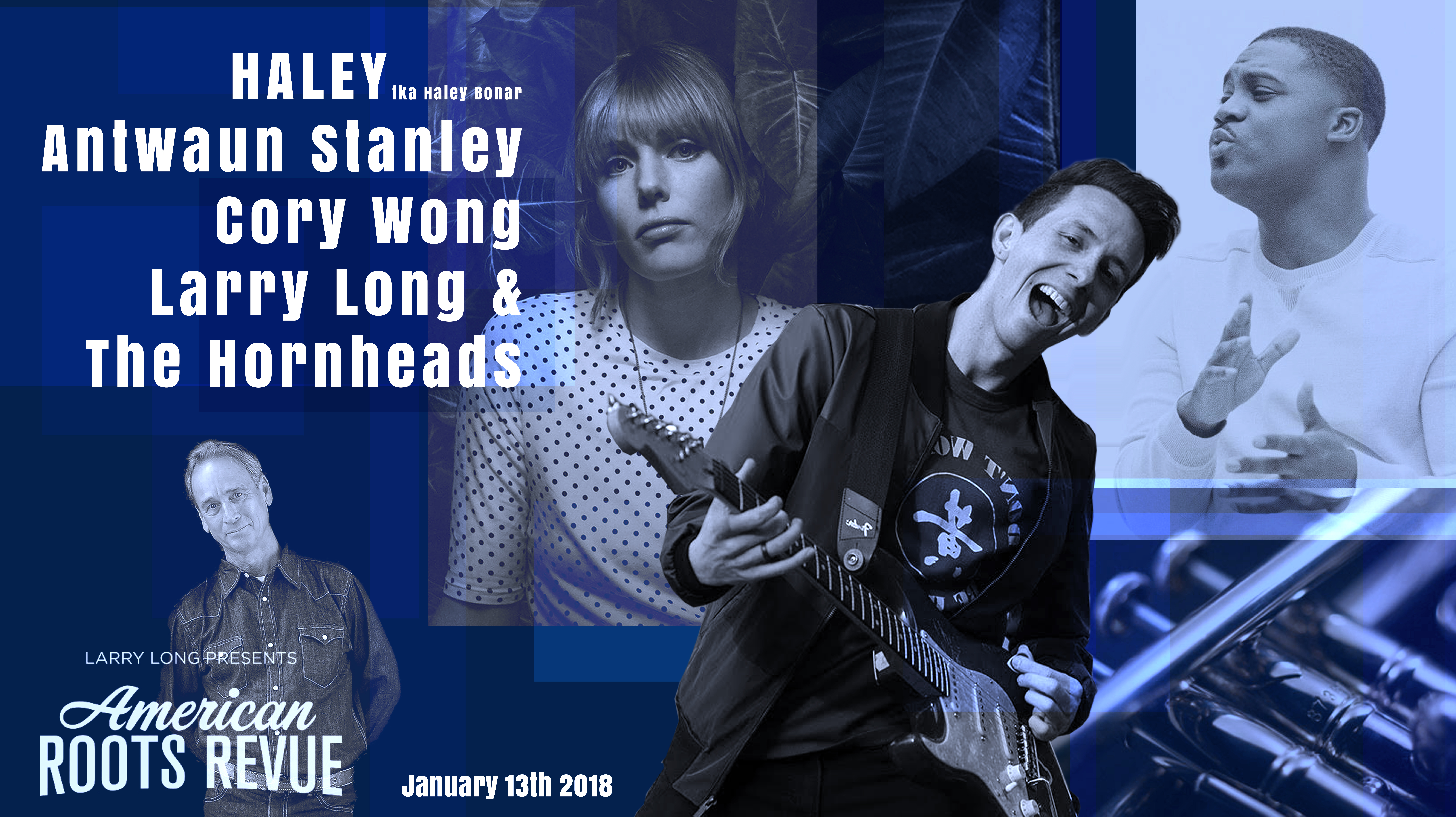 An Extraordinary Evening of Artists Sharing the Stage and Each Other's Songs!
There's never been an American Roots Revue show like this one! Internationally renowned singer and songwriter Haley (Bonar), national-international touring artist with Ben Rector and Vulfpeck, Cory Wong, and Vulfpeck singer, gospel and R&B artist Antwaun Stanley, are joining singer-songwriter and community builder Larry Long, with select members of The Hornheads (Prince, Mavis Staple, Jimmy Jam, Phil Upchurch, et al) and members of Wong's The Green Screen Band as the American Roots Revue backing group for just two shows January 13, 2018, at The Dakota at 7:00 and 9:00 p.m.
Tickets are $40 for the 7:00 p.m. show and $25 for the 9:00 p.m. show and available in advance at www.dakotacooks.com/and at the door.
This incarnation of the Revue will feature what the singular, always-changing band line up does best — capture first-rate artists that have never shared a stage before teaming up to do each other's songs, plus classic tunes from America's great songbook. It's a truly special night whenever ARR is onstage that has produced some exceptional performances that will never be seen again!
Past concert one-offs have seen The Honeydogs' Adam Levy, Chastity Brown, Dave Pirner (Soul Asylum), JD Steele, actor & bluesman Guy Davis, rapper Tall Paul, Tonia Hughes, First Nation singer Waubanewquay Dorene Day, chanteuse Prudence Johnson, renowned finger-pickin' ace Pat Donohue and the Pavarotti of Gospel, Robert Robinson.
Now working on a new album after a string of successive, critically acclaimed and fan-pleasing CDs, Haley is looking forward to this one-time collaborative experience with her artistic peers. Haley's Impossible Dream release is generating the world-class critical response from superstar legends and the rock press that one rarely finds:
• "Haley Bonar's Impossible Dream is a brisk half-hour of barbed power-pop tunes that sting so sweetly that it's only after the fact you consider you might need a tetanus shot." -Pitchfork
• "Haley Bonar's songs marry fizzy arrangements to cuttingly quotable observations about love, disappointment, identity and the curdling of youth. Her new album, Impossible Dream, finds the underrated Minnesotan in top form, mixing darkness and light with a deft touch." -NPR Music
• "I love Impossible Dream, and I love Haley Bonar." -Sir Elton John
"American Roots Revue is such a great platform for artists who join its ranks for one night only," says Wong, whose four-star-tasty new album, Cory Wong & The Green Screen Band, also features Antwaun Stanley. Together the two share a tight musical connection to Vulfpeck, where Stanley is the lead vocalist and Wong is longtime contributor and occasional guest artist with the Chicago group. "I doubt you will get another chance to see us all in action together, or Haley singing with Antwaun! But that's what happens in a Revue concert. For an audience, it's a truly magical night of rare collaborations."