Source of life, gift of love
To the sea she must run
To return from above
Along the Blue Highway
Traveling with Larry this weekend along the Mississippi River valley back roads for his final two shows of 2019 will be guitarist George Parrish, whose performed nationally with Seals & Crofts, Cherrell, Alexander O'Neal and American Roots Revue.
Larry's first concert is a double-bill with one of his favorite songwriters Raldo Schnieder and his band at one of Larry's favorite small town driftless venues.
Larry Long & Raldo Schnieder
Leo & Leonas Tavern & Dance Hall
Friday, December 6th, 7:30 PM
Bangor, Wisconsin
W1436 WI-33, Bangor, WI 54614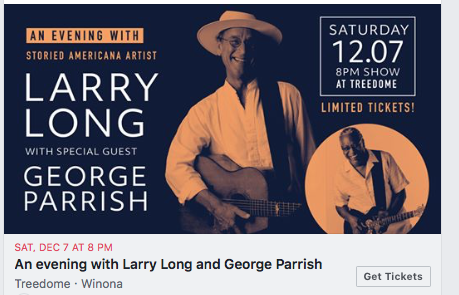 Larry's final performance of the year will be held this coming Saturday in the intimate acoustic setting of Treedome Studio, where Long will pay tribute in story and song to the revival of the Mississippi River through the inspiration of Pete Seeger on this his centennial year.
Larry Long w/ George Parrish
Treedome Studio
Saturday, December 7th, 8:00 PM
Winona, Minnesota
164 EAST THIRD ST, Winona, MN 55987