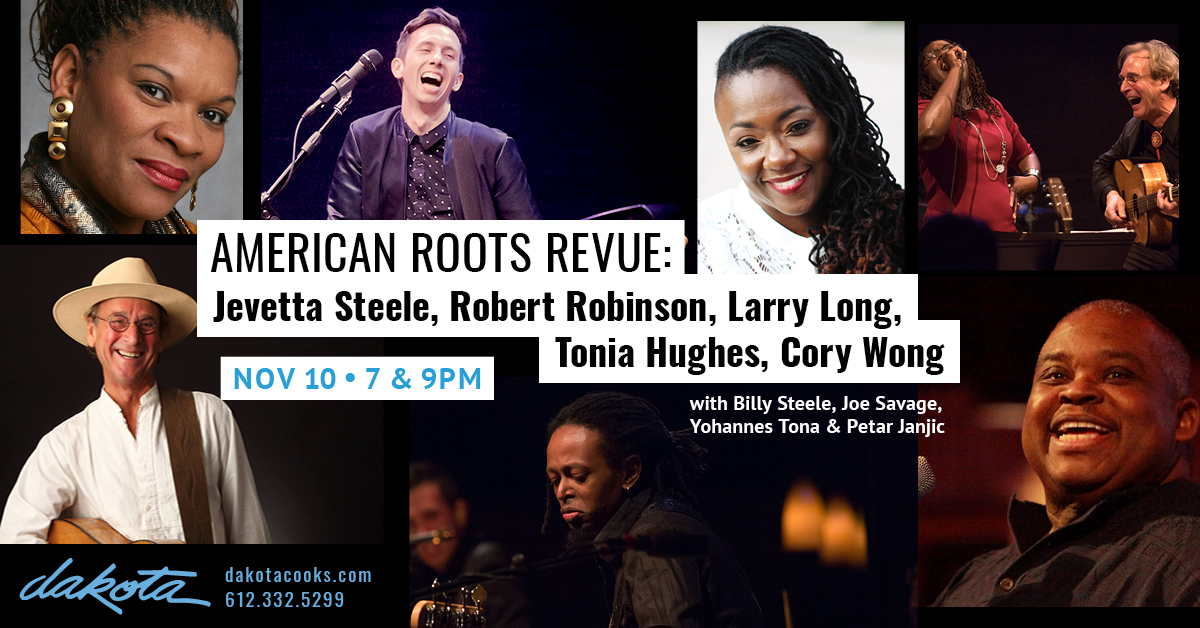 "The best singers and players anywhere in the country are in the Twin Cities. I tell people that all the time, whether I'm in Los Angeles or New York, 'cuz it's true!" – Jevetta Steele
There's a Soul Train coming and you better get on it! The ever-changing American Roots Revue** will feature an extraordinary line-up of Soul Power when singer and playwright Jeveeta Steele of the legendary Steele Family joins the core members of the Revue, singer and actress Tonia Hughes, gospel master, Robert Robinson, and songsmith, community builder and American Roots Revue producer, Larry Long, * for two shows at the Dakota November 10, 2018, at 7:00 and 9:00 p.m.
The scintillating foursome will be backed by a superlative band led by rising star, guitarist, songwriter, and producer Cory Wong (international touring artist & guitarist for Vulfpeck), with Joe Savage (pedal steel), Yohannes Tona (bass), Billy Steele (piano) and Petar Janjic (drums).
The evening will mark the six-song CD release by Larry Long, Slow Night*, in what might be his most musically rich and exciting work yet.
It's going to be a night to remember as the group offers up hand-picked material by Jevetta Steele, Tonia Hughes, Robert Robinson, selections from Long's new release, and tasty cuts from Wong's latest recording.
It's a truly special night whenever American roots Revue is onstage that has produced some exceptional performances that will never be seen again!
"I'm excited to join this collection of outstanding singers and musicians," Steele says, "and since I haven't sung with them all before in one place, I think it's going to be one of those events that once again affirms that the best singers and players anywhere in the country are in the Twin Cities! I tell people that all the time, whether I'm in Los Angeles or New York, 'cuz it's true. It's a treasure of talent that we have here, and we don't settle for anything less than perfection. And I know perfection, after working with Prince!" – Jevetta Steele
About Jevetta Steele:
Jevetta Steele, who has worked with many other leading artists (See her BIO) has also toured the world in various musical theater projects, including the award-winning The Gospel at Colonus and Baghdad Café (from a movie by the same name). She continues to perform regularly with her brothers and sisters in the Steeles. But the part-time playwright with two acclaimed plays under her belt also keeps active with worship choirs and dancers "behind the scenes" with a progressive Baptist church in East St. Paul, plus other theatre and singing engagements, commercial work, and just being Jevetta Steele.
About Robert Robinson:
Robert Robinson is reason to believe that the greatest music reaches every name and crosses every boundary, from audiences in the Pontiac Silverdome to troops in South Korea. Standing five foot five and sipping Diet Coke, Robert is "God's canary." He possesses the ability to sing any song and yet remain true to his vision.
The Milwaukee Journal Sentinel describes Robert as "a volcanic talent." His live performance "glorious" by the Salt Lake City Deseret News, and the Minneapolis Star Tribune proclaimed Robert to be "a soaring presence." Perhaps more importantly, Minnesota's Insight News distinguished Robert as "a beloved institution," a nod to both his service to the community and his sterling life's work.
About Tonia Hughes:
The Twin Cities recording artist and actress Tonia Hughes is undoubtedly one of the best kept secrets in the Midwest. Her vocal style is colored with melodic acrobats and elements of Gospel, Blues, Jazz, R&B, Rock and Worship. The fusion of which produces a delivery that is authentic, incomparable and electrifying!
Besides being a proud recipient of the 2017 -2018 McKnight Fellowship for Musicians, Ms. Hughes has garnered critical acclaim for her leading roles in musical and theatrical productions. Her credits include Caroline or Change (2009), Guthrie Theater; Loves Covers (2010), Women 's Club of Minneapolis; Mahalia (2011), Fellowship Baptist Church; Cinderella, The Ordway Theater (2011). Black Nativity (2003– present), Penumbra Theater;
About Larry Long:
Larry Long is doing what more singers and songwriters should be doing: using music to help people learn to work together, and bring a world of peace. —PETE SEEGER
Larry Long is an American singer-songwriter who has made his life work the celebration of everyday heroes. Author, historian, actor, and broadcaster Studs Terkel called Larry "a true American Troubadour."
Now a Smithsonian Folkways recording artist, Long has sung at major concerts and festivals throughout the United States and world, including Awesome Africa Festival (South Africa), Winnipeg Folk Festival (Canada), at the Hollywood Bowl with Kris Kristofferson, and at Madison Square Garden with Joan Baez and others for Pete Seeger's 90th Birthday Celebration.
Long is a recipient of the In The Spirit of Crazy Horse Award, Bush Artists Fellowship, and the Pope John XXIII Award for his work in forgotten communities.
www.larrylong.org
About American Roots Revue:
American Roots Revue works from the core of America's richest musical traditions of First Nation, Gospel, Blues, Folk, Rock and R&B. It boasts the artistic range to salute iconic America music heroes like Pete Seeger, Mahalia Jackson, Marvin Gaye, Donny Hathaway and Billie Holiday. And the poetic license to present artists in unique combinations with each other, like this must-see bill!
Special guests in past American Roots Revie concert one-offs have included: The Honeydogs' Adam Levy, Chastity Brown, Dave Pirner (Soul Asylum), JD Steele, actor & bluesman Guy Davis, rapper Tall Paul, First Nation singer Waubanewquay Dorene Day, chanteuse Prudence Johnson, renowned finger-pickin' ace Pat Donohue and others.
About Slow Night by Larry Long:
Blue Highway with spoken word poem written by Bill Holm
My Love for You
Puerto Vallarta
Slow Night
Chicky-Chicky-Boom (Honoring Papa Chic Milton Douglas)
I Love You (Honoring philanthropist Virginia McKnight Binger)
Slow Night was mixed and recorded, in part, at the studio of John Fields. Cory Wong produced the entirety of this collection. "Cory dug deep into my material, pulled out songs old and new, arranged and carried them into the wonders of a musical world I had never gone before. Hopefully, Slow Night is the first of many Long Wong collaborations to come," Long says.
L to R: John Fields, Cory Wong and Larry Long in the studio
"One of my closest friends was the late John Fields, a Vietnam Veteran who passed away a few years back from the effects of Agent Orange. John and I would often wonder who was the other John Fields we often read and heard about in the music world," Long adds. "That John Fields produced and performed with a number of musical artists, including Adam Levy & The Honeydogs, Miley Cyrus, Switchfoot, Jonas Brothers, Pink, and Demi Lovato to name a few. When I learned that Cory worked with this same John Fields, I leaned heavily on him to secure Fields to mix the session in memory of my old friend who shared the same name. Eternally grateful that it worked out."