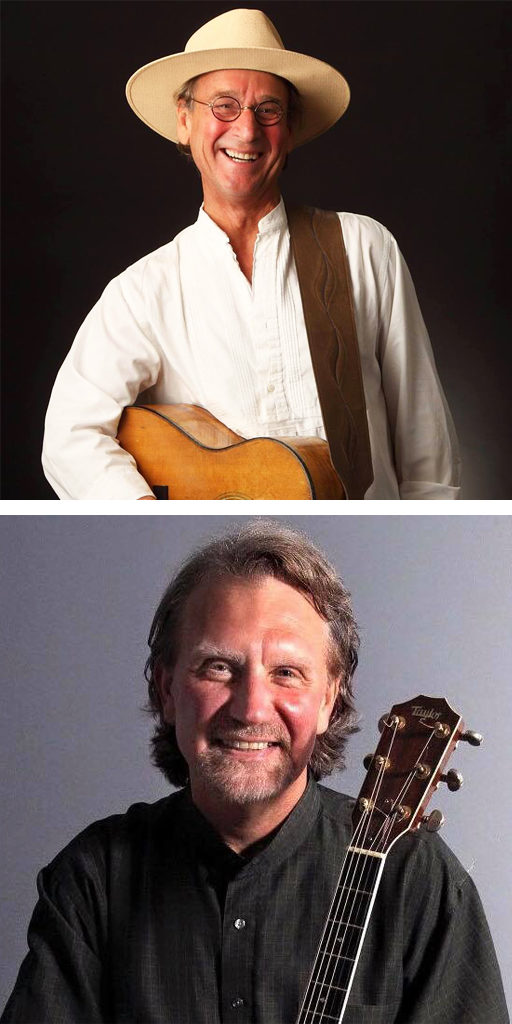 Lanesboro Arts presents an evening with roots musicians Larry Long and Dan Sebranek at the historic St. Mane Theatre in Lanesboro on Friday, October 19th, 2018 at 7:30 p.m. Sebranek is returning to Lanesboro after a 2017 concert with Johnsmith, while Larry Long's visit is happening in advance of a 2019 tour stop at the St. Mane with his celebrated "American Roots Revue" band.
This concert is presented by LANESBORO ARTS and sponsored by Inspire(d) Media, Commonweal Theatre, Granny's Liquors and High Court Pub. Tickets are $15 / $12 for Lanesboro Arts members and are sold online at www.lanesboroarts.org; at Lanesboro Arts Gallery, 507-467-2446; and at the St. Mane Theatre box office beginning at 6:30 p.m. on the night of the play. The St. Mane Theatre is located at 206 Parkway Ave N. in Lanesboro, Minnesota.
Please note:
The St. Mane Theatre box office will open at 6:30 p.m. the day of the event. Remaining tickets will be sold in-person beginning at that time.
If you are unable to buy tickets online or need additional assistance, you may try calling 507-467-2446 to purchase tickets over the phone during business hours.
We will have a list of the names of ticket buyers at the box office beginning at 6:30 p.m. If the ticket buyer and their guests arrive together, no physical receipt or proof of purchase is needed in order to be admitted to the event–we will have a list!
Alternatively, attendees can also present a printed copy of the Eventbrite ticket PDF the ticket buyer was sent or simply pull it up and present it on a smart device.
Lanesboro Arts is committed to accessibility for all people. Learn more about our access services.
Dan Sebranek is a renowned singer, songwriter and musician who started his musical career at the age of 14 with musical roots in bluegrass and rock and roll. He has shared the stage with Johnsmith, Michael Martin Murphey, Hans Mayer, Bill Miller, John Prine, Perry Jordan (Heartsfield) along with Pure Prairie League. In Dan's early days as a troubadour he performed primarily with the duo, Runaway. Currently Dan is performing solo acoustic music around the world. He performs each year in Ireland bringing the gifts of music and song across the sea. He is inspired by Dan Fogelberg, James Taylor and Bryan Sutton and has been met with positive responses from audiences across the country who enjoy Dan's musical versatility.
Dan continues to tour as a solo performer, in musical duo's and in the String Ties Bluegrass Band. He enjoys playing festivals, house concerts and clubs all over North America. Dan won the Telluride Bluegrass Festival award with his band, Northern Hospitality. He performs at the Great River Folk Festival in La Crosse each year and, along with his family, helped pioneer the popular Larryfest Bluegrass Festival in the Kickapoo Valley. Dan has five successful recordings including previous works with Johnsmith.
Larry Long is an American singer-songwriter who has made his life work the celebration of everyday heroes. Author, historian, actor, and broadcaster Studs Terkel called Larry "a true American Troubadour." Larry has written and performed hundreds of ballads celebrating community and history makers. His work has taken him from rural Alabama to the Lakota communities in South Dakota as he has given musical voice to struggling Midwest farmers, embattled workers, veterans and marginalized communities. He assembled the first hometown tribute to Woody Guthrie in Okemah, Oklahoma, which today has evolved into the annual Woody Guthrie Folk Festival.
Long has sung at major concerts and festivals throughout the United States and world, including Awesome Africa Festival in South Africa, Winnipeg Folk Festival, at the Hollywood Bowl with Kris Kristofferson, and at Madison Square Garden with Joan Baez and others for Pete Seeger's 90th Birthday Celebration. Long's work in schools and communities sparked the creation of a non-profit organization, Community Celebration of Place, which creates intergenerational and multicultural opportunities for students to learn and grow through a program called Elders' Wisdom, Children's Song. Long is a recipient of the prestigious Bush Artists Fellowship, the Pope John XXIII Award, Sustainability Award, and "In The Spirit of Crazy Horse Award" for his work in forgotten communities.