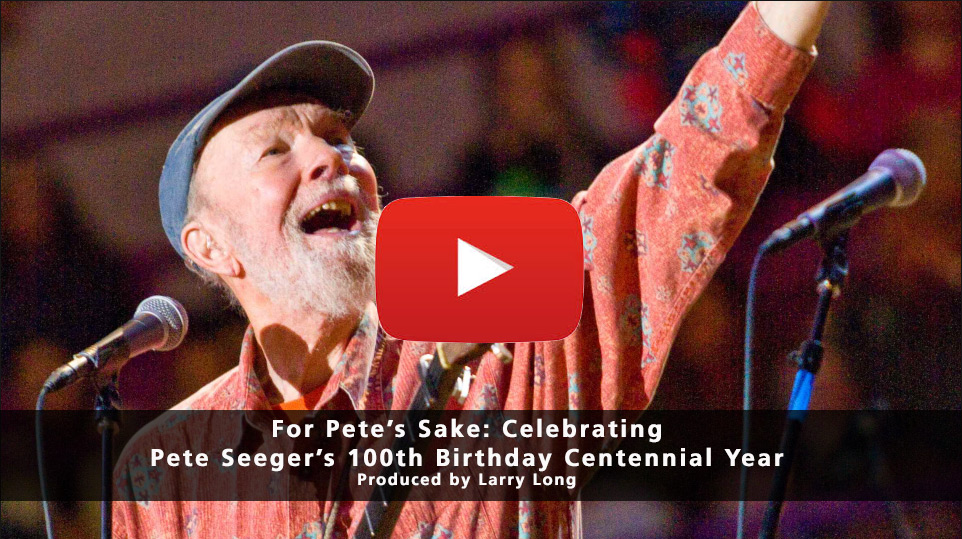 Musician, activist, humanitarian, Pete Seeger was a giant of a man who walked humbly on this Earth and inspired us all to be a little less selfish and more courageous in our giving.
On this Centennial year of his birth on May 3rd 1919 we pay tribute to this great American in this one-hour radio broadcast, where community leaders and activists recite the words of Pete Seeger and musicians perform songs that Pete Seeger either wrote or popularized.
The program begins with Pete Seeger himself sharing his life story with us in spoken word within his song Well May The World Go from my Smithsonian Folkways & Appleseed recording.
Pete Seeger cared deeply for his neighbors, and we cared deeply for him, because the entire world was Pete's neighborhood.
Pete Seeger and I were dear friends for over thirty years.  Con­versations with Pete just kept flowing into laughter and inspiration to keep on trying to make this world a little better than it was when it was handed down to us.
Please take the time to listen. You'll be glad you did.
For credits and more information about this program visit audioport.org
Produced by Larry Long
Production assistance from Ursula Ruedenberg, Pacifica Radio Network
Featuring narrations and songs either written, popularized, or spoken by Pete Seeger from a concert held on May 3, 2014 at the Fitzgerald Theatre in St. Paul, Minnesota, unless otherwise noted:
Pete Seeger & Larry Long
Well May The World Go
Words & Music by Pete Seeger
Smithsonian Folkways
Cameron Wright
My Rainbow Race
Words & Music by Pete Seeger
Louis Alemayehu, Poet
Into the Very Teeth of the Gale
Written by Pete Seeger
Estaire Godinez
Somos El Barco
Words & Music by Lorre Wyatt
Verse 3 by Larry Long
Randy Furst, StarTribune Reporter, TNG-CWA Local 37002
Each Step Forward
Written by Pete Seeger
Pop Wagner, Tony Glover, Charlie Maguire
Union Maid
Words & Music by Woody Guthrie
Verse 3 by Pop Wagner, Tony Glover, Charlie Maguire
Kim Ellison, Minneapolis School Board
Rising of the Women
Written by Pete Seeger
Tonia Hughes
Oh Had I A Golden Thread
Words & Music by Pete Seeger
Jacqueline Long, Public Defender
Honoring Toshi Aline Ohta Seeger
Written by Larry & Jacqueline Long
With excerpts from Toshi & Pete Seeger's writings
Barb Tilsen & Patty Kakac
Turn, Turn, Turn
Words & Music by Pete Seeger
New verses by Toshi Aline Seeger
Dr. Josie Johnson, Civil Rights Activist & Social Justice Elder
In Honor of Paul Robeson
Written by Pete Seeger
Robert Robinson with Joyful Noise
Jacob's Ladder
Traditional African-American Spiritual
Sharon Sayles Belton, Former Mayor of Minneapolis
Peekskill Riot
Written by Pete Seeger
Aimee Bryant & Chastity Brown
Keep Your Eyes On The Prize
African-American Spiritual
Alanna Galloway- CWA, AFL-CIO
It's Been a Long Hard Struggle
Written by Pete Seeger
Robert Robinson
We Shall Overcome
Lyrically and musically adaptated
by Pete Seeger,  Zilphia Horton,
Frank Hamilton, Guy Carawan
Brittany Delaney
Spoken Word Poem in Honor of Pete Seeger
Written by Brittany Deleaney
If I Had A Hammer
Prudence Johnson, Chastity Brown, Aimee Bryant
Words & Music by Pete Seeger & Lee Hayes
Reverend Dr. Will Healy, Park Avenue United Methodist Church
My Old Brown Earth
Words & Music by Pete Seeger
Support musicians led by Dan Chouinard (Keyboards) include: Marc Anderson (Percussion), Peter Ostroushko (Violin, Mandolin), Kevin Fuhrman, Brian Barnes (guitar & banjo), Joe Savage (Pedal Steel), Jane Aleckson (Bass),
Guest Musicians: Kevin Fuhrman (Percussion),  Peter Schimke (Keyboards).
Support vocalists: Joyful Noize; Ann Reed; Waubanewquay Dorene Day; Cyril Paul; Mitch Walking Elk; Courtney Yasmineh; Lorna Her Many Horse; Timothy Frantzich; Van Nixon.