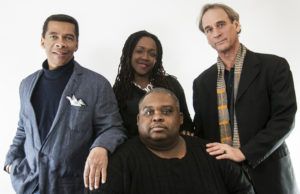 Martin Luther King Weekend, Saturday, January 14, 2017 at the Dakota Jazz Club American Roots Revue will celebrate America's richest musical traditions of gospel, blues, folk, rock and R&B.
This January, the revue returns to its roots with its original line up that includes acclaimed gospel vocalist and community leader JD Steele! JD joins musicians that will also include the show's producer, award-winning singer-songwriter, Smithsonian Records recording artist and community builder Larry Long, with powerhouse gospel and soul singer Tonia Hughes, and the American Roots anchor artist — the "Pavarotti of Gospel" — Robert Robinson.
Join these marquee talents — backed by an incendiary all-star band that features guitarist Cory Wong, who recently sat in with the Rolling Stones' Charlie Watts at the Dakota for his 74th birthday in 2015!