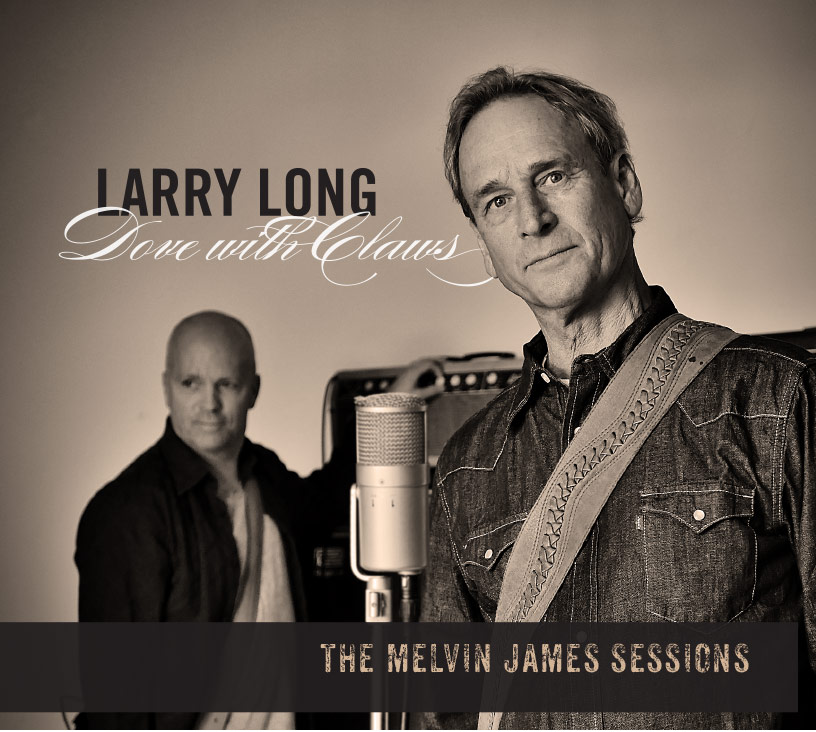 Update Required
To play the media you will need to either update your browser to a recent version or update your
Flash plugin
.
Larry Long: Lead Vocals, Guitar, Harmonica
Melvin James: Backup Vocals, Guitar, Drums
Sid Gasner: Bass
Heather Kelly: Backup vocals on Lay Hatred Down
Recorded at Junior's Motel, Otho, Iowa
Special thanks to Kirk Kaufman for his hospitality
Photographs: Roger Feldhans
Design: Planet Claire Creative
All words & music by Larry Long
2016 © Larry Long Publishing (BMI). All Rights Reserved
"Old Ways" and "Circle Time" written by Larry Long
with youth & elders at Heart of the Earth Survival School
Produced by Melvin James
Release Date: Fri, November 11, 2016, Armistice-Veterans Day, Cedar Cultural Center

MINNEAPOLIS — October 7, 2016 — Like his artistic forefathers before him, Larry Long's sense of place and time is eloquently captured in his recorded music and in the powerful community building he's done with elders, veterans, children, Indigenous First Nation communities, and others all over the country and abroad.
As the award-winning Minneapolis singer-songwriter turns 65 on Armistice-Veterans Day, November 11, 2016, Long revisits his past and assesses the present day with a timely new record release— Dove with Claws: The Melvin James Sessions (Cereus Records)—and an album release at The Cedar at 8:00 p.m. Tickets are $20.00 in advance and $25.00 at the door and also available online at thecedar.org, by phone, at Depth of Field, and the Electric Fetus.
The Smithsonian Folkways artist and Seeger protégé was a longtime friend of the legendary folksinger and the only Minnesotan performing at Pete's 90th Birthday at Madison Square Garden that included Bruce Springsteen, Ani DiFranco, Rufus Wainwright, Joan Baez and many others. For the new disc, Long teams up with his musical cousin and charting MCA recording artist Melvin James (aka Planet Melvin) in album of electric rockers balanced by heartfelt acoustic fare. Long will be joined at the CD release event by James (Electric Guitar & Vocals), Tonia Hughes (Vocals), Joe Savage (Pedal Steel), Cory Wong (Guitar), Daryl Boudreaux (Percussion), Sid Gasner (Bass) and Melvin Veach III (Drums & Vocals). Anishinabe-Ojibwe Recording Artist, Annie Humphrey, opens.
Dove with Claws makes a blistering indictment of our times ("Living in a Rich Man's World," reworked here—and in a new video—as a searing rock song from his debut folk album 37 years ago), while also honoring downtrodden working folks like the seven women who went on strike on the Iron Range ("Seven Strong Women"), Mississippi Levee workers and the unjustly incarcerated Dakota-Ojibwa elder, Leonard Peltier ("Lay Hatred Down"). At the album's center lie the buoyant pop-rock tune "All Across America" with its Bo Diddley beat and an unforgettable power ballad, "Walking Like Rain."
The late Johnny Cash coined the phrase "a dove with claws" to describe the fierce pacifism that grew from his first-hand look at America's endless wars while entertaining soldiers in Vietnam. Cash's words are a perfect description of the life and work of Larry Long.
"Long's music had an indelible influence on a young cousin from Iowa who became the charting rock artist, Melvin James. Now Larry and Melvin have joined forces. The claws of Melvin's guitar sharpen the urgency of Long's message in a way that will surprise you. And delight you.
Larry Long started making great records a long time ago. Dove With Claws is the latest in a long string of victories." —EDDIE ALLEN, WRITER & RECORDING ARTIST